The body is a self-regulating and self-healing system. It takes care itself very well unless there is some sort of stress, interference or deficiency. It is a natural system. When things go awry, it needs a natural solution to restore balance.
There are four different types of stress that can block the body's natural way of functioning.  Structure, mental or emotional stress, toxicity, nutritional and biochemical imbalances.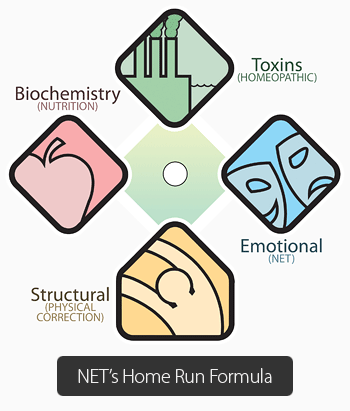 Structure involves any interference to our nervous system or meridians. This can come from trauma, misaligned vertebrae pinching nerves, constriction of our organ movement or blockage of our acupuncture meridians. Mental and emotional stress include any recurring or traumatic stresses that have become stored in the body. Not all stressful events become stored, but when they do they can cause effect many body systems and create ill health. Toxicity can come from the environment and things we come in contact with. It can also come from a build up of toxic metabolic bi-products that the body cannot remove. Toxicity can also come from a breakdown of our liver and other "filtering" organs in our body. Imbalances in our biochemistry and poor nutrition are causes of many health conditions.
In baseball in order to make a home run you have to touch all four bases.  And to have good health all four bases have to be addressed as well. The interactions of any or all of the "bases" can cause a problem in the other systems. The body is like a fine tuned Swiss watch. Once one part of the system gets out of tune, the whole system can start to breakdown.
So in my office I address all four bases using Meridian Therapy, Functional Medicine, Holistic Chiropractic care and Neuro Emotional Technique together to help the body restore health.
Call or email me to set up an appointment: 415-898-0889 or jbw4600@verizon.net